April is a frustrating month every year apparently. I wonder when it won't be so hard? My mom had surgery this month to have a hernia taken care of and her gallbladder out. Daddy D and I treated outselves to a Hockey Game. My back is killing me again. Guess steriods only take care of a herniated disc for so long. On top of that, the nurse that works at my doctors office still hasn't call me back or called in the RX refill I requested. The refill is for that ever important "Pill." I've never been late and now I'm more than 2 days late taking it. I do have to admit, I'm not as tired when I'm off of it, that's for sure! I'm definitely not as moody either. On top of that there are a lot of birthdays this month-- My ma (mother in law) and my pa (father in law), Lanie, Nephew, sis (in law). Then on top of that, the anniversary of my dad's death is coming this Saturday, and I know I'll just want to lay down and cry most of the day. Okay--- Enough ranting, I try to save that for Livejournal. I think I made my point about April being stressful.
Lanie's birthday party was fun. She chose a pirate party and I guess that was it. I bought the stuff REALLY early and then she changed her mind and wanted a princess party. Needless to say, I didn't cave. She got her pirate party and really didn't care about the princess party not happening either way. We had pirate tattoo's, sticker maps, bean-bag toss, etc. It was nice. I'm glad it's over. Next year I may be crying. Part of me really is ready for Lanie to be in school. But I know this next year will go by fast and at some point it will hit me. She's really getting big. Here are some pictures. I only posted family because I'm not sure how well her friends would like to be on the internet.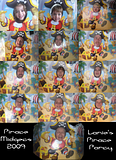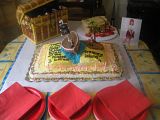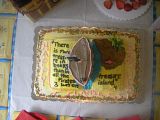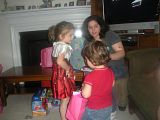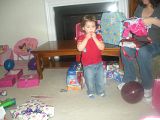 The cake took all day and really didn't end up looking that good, but it the taste was rich and addicting... at least for me anyway. I don't have too many pictures. I was busy getting things going. Daddy D was busy getting hot dogs on and off the grill. We'll have to wait until we get some pictures back from others who were taking pictures. Really glad the party is over. Really glad she made it to 4 years old. I think it's hilarious that she's so excited and had so much fun at the party--- she's already planning the day she turns 5.
On another note, Jon and I are going to work on losing weight together. We're not overweight, but we're not at the recommended weight either so this summer we're going to get on the ball...er, bike actually. I bought us 2 bikes (with Daddy D's money of course ;p), and a child carrier for the bike for Jena. I also got her a helmet. Lanie has her bike, so we're all set. Next we'll get a punching bag and a basketball goal... or hoop. Wherever you want to call it. I need to lose 15 lbs and tone up. I haven't put him on the scale yet. But we'll see how everything goes. My main thought is if I can get through April, maybe I will be okay for the rest of the year. Maybe I won't, but that's neither here nor there.
*sigh*