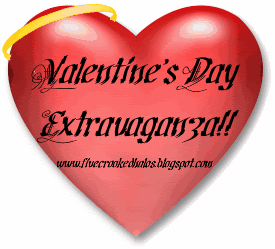 Photobucket" />
In honor of Valentines Day, some bloggers are writing about how they met the love of their live.
I've decided to follow along with Mama M. at My Little Life this week with her Valentine's Day Extravaganza.
Add your link below and share your story. Sunday was the story of how you met your love. Monday is your favorite best or worst date and Tuesday is your engagement story. I killed 3 birds with 1 stone... or story. ;)
I *was* in college in 2003. But..... (uh huh, there's always a butt) I kept getting chalazion's on my eyes. Was forced to be all pirate-like with eye patches for a couple of months. I wasn't allowed to drive and no longer lived on campus so that was out. I had no choice but to drop from the semester. I was bummed, but I spent a lot of time online, and on AIM. One day, I get this pop up saying that this screen name was unknown to my buddy list but wanted to speak to me. I look at the screen name, and it wasn't something like cutie4utee6669990000, so I thought about accepting it. It could have been someone from one of my classes. Afterall, I did drop out of the semester without saying anything to anyone. Accept! The message went like this:
Him: Hi, I am new to Charlotte. I found you in the directory. I was wondering if there is anything to do here.
Me: You can go to bars, go to clubs or go to Carowinds. That's pretty much it.
Him: Okay, well that answered my question. I am going to go clean up my dishes from dinner.
Me: Ok. Bye.
Shortly after that, I remember we're great for music and concerts and comedy shows. I hadn't added him to my buddy list but I did do IM logging back then. So I messaged him back to let him know. And we started talking via AIM pretty much all day, every day. After a couple of weeks of IM talking, we decided to meet. I decided to meet him at Golden Coral. And then I decided that one of my best friends would have a boyfriend problem, and need to come with me just in case he turned out to just have a normal screen name but own a not so normal brain. (I had 2 stalkers on campus that year.) So, best friend lets me pick her off, and we're off to golden coral. I realized, I didn't even have his phone number, so canceling was out. If he turned out to be nuts, it was only one dinner. He didn't have my phone number either so it worked out. After I picked up one of my best friends to go to meet him, she saw how nervous I really was.
So, we get to Golden Coral. And there he was. He sent me his picture so I would know what he looked like. As soon as I saw him, I knew I would marry him. He was wearing and blue and white button down, stripey shirt. And jeans. I said hi to him, and made sure he was the guy I was supposed to meet. Introduced him to my friend and went inside. We all go inside to eat. My friend and who I was hoping would be my future husband hit it off great! They talked, and talked and talked..... and talked. And we ate and ate and ate. Finally, I was certain no one could eat anymore, and no one could talk anymore so it was time to go. She talked to him more than I did. I just kind of joined in when I had some pertinent to add to the conversation. Obviously my friend left with me, but on the way back home she said there was something different about me, and in the few years that she'd known me she'd never seen me this way before. I told her that I thought I'd be marrying him. She said she believe it and asked to be dropped off at the mall. So I dropped her off and still had a good 20 miles to go to get home when I realized, I wanted to call him. Didn't have his number, he didn't have mine. I called my mom instead. A few days later we went on another day--- to Bruggers Bagels and Starbucks. (Which is also the same date we relived when he proposed to me almost 3 years later. Except people were staring at us when he proposed, not on our first date) 4 weeks later, he helped me move into a new apartment. And he pretty much moved right on in with me. We've been inseparable.
And that's how I met my love.
Best date: Starbucks and Bruggers.
Worst date: He knew I loved astronomy, and while visiting some of his family in PA. He packed blankets and pillows and took me to a lake he used to spent time at when he was a kid. It was May 2003. He also go us food and coffee. The only thing he didn't pack-- bug spray. I got eaten by mosquitos. The date lasted all of 15-20 minutes. What can I say? Mosquitos are attacted to me. (OH and he has nothing to do with his RedMosqui nickname, I guess that just ended up being a coincidence.)