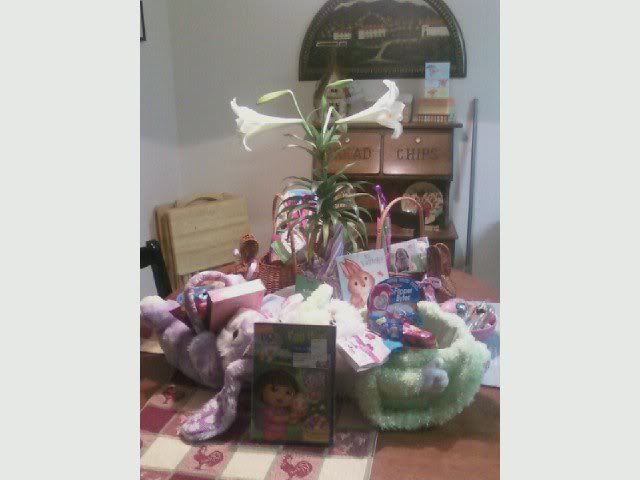 Here is our Easter spread, sorta. The baskets that we made for the girls are hidden in our house for them to "hunt," along with one of those large eggs that you can fill with treats. I am unfamiliar with the hiding of Easter baskets. But my husband enlightened me and said the girls were old enough to work for it. I found the large eggs at a dollar store actually. So I bought 4. One for each of my daughters and one for their cousins. I have fond memories of opening my egg when I was younger. The ones we had growing up were cardboard fabric eggs with beautiful embroidery on them. There were several of them that my parents would fill and we'd get in a basket on Easter. Oddly enough, the Greek Orthodox Easter is today as well. It's usually on a different day but lately it's been falling on the same day. In the picture, the two baskets in the back are from their Ant C and Uncle E. The bowls in on the side were shipped from their Ant CiCi. The bunnies in the front are one of the first baskets that they had. Filled with Princess Pez dispensers. Hubby got the iTunes gift card. And then there is a DVD called Dora's Egg Hunt. They aren't really allowed to watch Dora here, but when they went to their Tetta's house for the week, she let them watch and it's over now. Bee has even said she wants a Dora birthday and her birthday is about 9 months away. (Planning early I guess!) We're doing our own Egg hunt as well, probably filled close to 100 eggs with different things for them to find tomorrow. They also had a mini hunt during Preschool and yesterday, my friend invited my husband to go to her house for an egg hunt. We had over 200 empty eggs, we didn't fill them all. I know for a fact at least 70 of them weren't filled (Since we didn't open the package) so I gave them to her. They had cookies and punch and put the eggs out 3 times. The glad had a lot of fun. I of course, was at work getting paid to read my book since it was so slow.
Any way, I bought myself the lily. Calla lilies are my favorite but I actually like all of them. I just think Calla's are more beautiful than most. I just got home. I had to stop at the bane of my existence.... I mean, Walmart. After everything settles down here tomorrow, we're going to do some yard work. So I pick up Ground Clear, Once and Done (for bugs) and a few other yard items. I also decided to get some groceries. Aside from the lily which was an impulse buy, I picked up some things for Smoothies. Recently Alton Brown had a wonderful recipe for smoothies on his show, Good Eats. You can find it on the Food Network website by searching the Good Eats show and smoothies. It looked interesting so I figured I'd try it. I picked up some frozen fruit, some orange juice and some Acai juice. The Acai juice is almost $7. Yes, $7. As a diabetic, I am not supposed to have any type of fruit in the morning so I will have to figure out a better time to give it a shot. Is Acai really that great? I am hoping it doesn't taste nasty. Alton Brown seemed to endorse it on his show. My Bee actually does not like oranges (loves orange juice though), pineapples or cherries. So I was picky about which fruits and juices I picked up. I also picked up some things for breakfast. I bought the girls Cupcake Pebbles (Same thing as fruity pebbles but cupcake tasting? I don't know!), but since Bug's birthday is Thursday, I will save them for her.
This week will be interesting. At my new job we get over 3 weeks of paid time off a year. So I was trying to take off close to a week off every quarter. I wanted the first week of April but I ended up on the waiting list. They're doing a really great incentive this month so I am guessing a lot of people have removed their PTO days. I thought I deleted all of my April days, except the 17th as we were hoping to be in Fayetteville for the day for my nephew's birthday but I didn't end up getting the day. The point is, apparently, I only deleted Monday, Tuesday and Friday. Wednesday and Saturday didn't go through so I got approved for them. I am glad I will get to surprise my Bug with those days off. Had I known sooner though, I may not have decided to reserve her party for Thursday! So, I will have half of Redmosqui's Spring Break off, and the 3 days that I do work during the week, I will be on a day schedule so we get our nights together..... A taste of what's to come in the Summer when he's home all the time! I guess I better get to bed, I have to start cooking in the
morning
in a few hours. I am excited to see the girls faces when they get their baskets. It was a hunt just to find all the things that I wanted to put in it. And their grandma and grandpa are going to be here as well for a little bit.
Happy Easter!! I hope the Easter Bunny brought you all something special, even if it's just the realization of love. :)