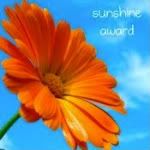 http://www.miamamiah.com
Check out this blog--- give aways, pictures and anything/everything else! In fact, I have her to thank for this award which means you do too if you're on the list below! Oh and don't forget to check out her jewerly too!!
Here are a list of only 12 blogs that I read but definitely checkout the other buttons on my blog. They're all great blogs to read and keep up with.
1.
http://www.twolittlemonkeys-plushubby.com/
Heather blogs here. She's the one who did my blog design. You can follow her and her family, and also she has a blog for her design company.
2.
http://ofmiceandramen.blogspot.com/
Veronica blogs here and is always posting and participating and commenting. ;) Excellent blogger, she is methinks. She posts a lot of interesting pictures and things that you'd never think exsisted.
3.
http://www.day-2-dayliving.com/
Melissa blogs here. She's hilarious even when she's having a bad day.
4.
http://www.mummy-diaries.com/
This is Tina's blog. She's very insightful and has great taste in books and movies!
5.
http://motherhoodthetruth.blogspot.com/
Very insightful and a beautiful Hepburn/Tiffany post up right now.
6.
http://www.debbie-debbiedoos.blogspot.com/
Debbies blog is about raising her boys, she also has give aways too!
7.
http://howtosurvivelifeinthesuburbs.blogspot.com/
Talk about belly laughs! ModernMom
will have you laughing so hard that you'll probably fall out of your seat.
8.
http://lovecommaashlee.blogspot.com/
Can you guess her name? Her blog is fun and fresh. She blogs about her life as a parent to her two sons.
9:
http://www.anyasroom.com/
Anya's room has helpful tips that maybe you just haven't thought about. It also has a really cute look to it.
10:
http://www.jafullwood.blogspot.com
Excellent advise and tips here. If you don't follow, you should bookmark! Lots of lessons to be learned here.
11:
http://www.ethertonphotography.blogspot.com/
I have only been reading this one for a
week but the pictures are gorgeous and the give aways are numerous!
12:
http://www.thepenny-pinchingmama.com/
Great give aways, great reviews and all around interesting posts.
----------------------------------------------------------
Follow Friday!! --- Remember, people do make a living off of blogging, by doing reviews, give aways and ads. Join the work at home movement. Be come a follower. :)