I understand that I have not been able to blog for almost a month now. But this just caught me off guard tonight. The things us women keep in our purses. I am on a lot of medication and can't sleep so I decided to take a venture in to the realm that is my purse. So here we go.
This is my purse:
You wouldn't think that there would be a lot that it could hold. It's actually a medium sized purse. Nothing like a tote bag. Well, here is what was in my purse when I did my inventory.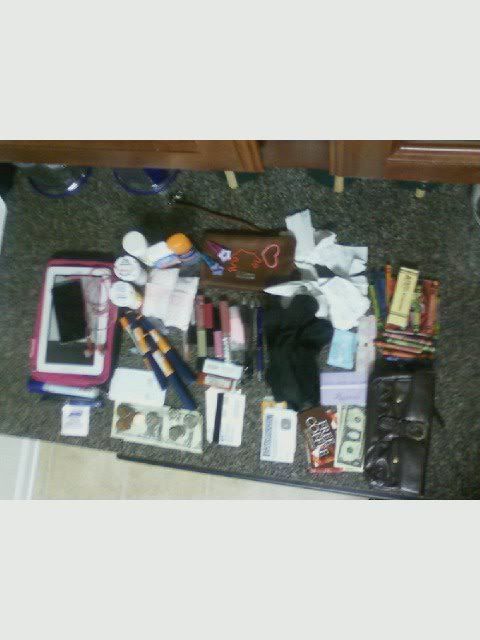 Inventory list:
Crayons collected from various restaurants.
Pile of receipts
2 chuck cheese tickets (Not sure why those are there. We went in May)
2 removable wallets that are filled with cards and stuff I don't use but have just in case at some point in my life, I will need them.
License, credit card and debit card stay in a separate pocket for easy removal because I usually keep them in the butt pocket of my jeans.
2 Coupons for free coffee and free pizza. Both of which I am no longer able to have.
4 black hair bands.
1 black scrunchy.
1 movie ticket stub
2 health insurance cards, one RX card.
$5.32 total found in various pockets.
2 lighters, never know when there is a need for fire?
6 back up insulin pens... even though I wear an insulin pump 24/7.
1 blue nail polish pen. (Not sure why that ever got put in there)
6 different shades of pink lip gloss.
1 clear lip gloss.
2 silly bands, one is broken.
2 tinkerbell hair clips.
1 tube of hand sanitizer spray (I don't know why I have this, I have a clip on for my keys.)
1 Hand sanitizing wipe (again, pointless).
3 different types of pain controlling medication.
1 bottle of Tums (a recent addition).
2 Sanitary pads, which are completely unnecessary since I only need them like twice a year or less.
1 small bottle of bug spray (Yet I don't have sunscreen in there? Hmmm?).
3 Ink pens shown in the picture, but I really have 4. One I was using to write down my purse inventory!
1 I-pod touch for entertainment while bored somewhere, like at work.
1 Barnes and Noble Nook for entertainment while bored somewhere too.
1 paper clip (in case I need to pick a lock or handcuffs or something? I don't know really).
I think I need to upgrade to a tote bag. Seriously, the amount of stuff in that purse is ridiculous. I suppose I have to go put the stuff back in now, before Red wakes up and sees all the counter full of stuff that does not belong on the counter. I guess I can also get rid of some of the pointless things.... at least until I can buy a new bigger purse that allows for more organization!
*** On a side note, the reason I have no been able to blog is for 2 reasons. We got a new computer. Red divorced windows and went to Mac and I have had problems figuring it out. And the main reason. I am sick and trying to learn how to live with this new medical condition. I also had my gall bladder removed this month (10 days ago) and did not receive good news on the total outcome of what has been going on. School is starting back up and I am hoping to be able to come back into the blogging world again as I miss everyone. My next post, however, will be stolen from Red's blog, as he wrote and amazing summary of our summer!***