I need to complain!
I'm having a rough rough time right now. Tonight I seem to be suffering from insomnia. Some nights I get to sleep fairly easy, but others like tonight, I struggle. Sleep seems impossible. I'm exhausted, my eyes are heavy... yet no sleep. A lot is going on with me health wise. I haven't been able to get my blood sugar under 400. I can just picture my organs burning now. The more I look into health care, the more impossible it seems to get it. So getting insulin anytime soon is probably not possible. Diet and exercise don't even work. I do a manual labor job, outside in the heat, for hours a day during the week and even long on weekends. That does nothing to help my blood sugar at all. The only thing my job accomplishes right now is making my foot hurt to the point that I need to scream with each step. I guess that's what happens when you've sustained an injury equivlent to crushing your entire foot. When it happened, I thought one day I would FULLY recover. I guess nothing would be the same after three surgeries. Guess I was wrong there! I really should just feel lucky that I lived through the car accident all together.
And although my postpartum hormones are gone... I've got other hormones that have caused me nothing but pain. Cysts... one that I've had for 3 months now and others coming and going weekly. HEAVY painful Cramping, heavy bleeding that comes at a moments notice and other stuff I won't get into. It's tiring to be in so much pain at such a young age. I'm 25, and I swear this is what it feels like to be 60. It's sad that my husband and I actually had this conversation:
Me: I'm falling apart.
Him: What are we going to do with you?
Me: Take me out back and shoot me like a horse with a broken leg.
I'm one big mess! But to make me feel better tonight, I uploaded pictures of my family who are all safely tucked into bed tonight. I do what I do, and go through what I go through for them...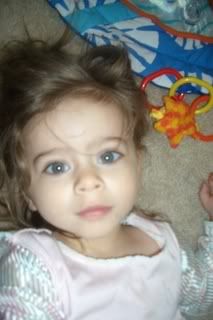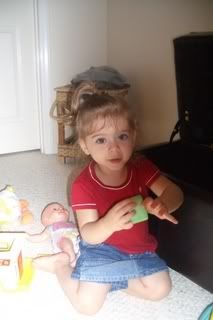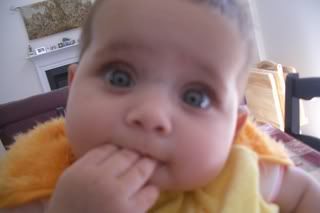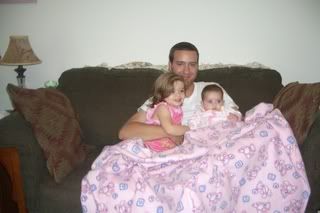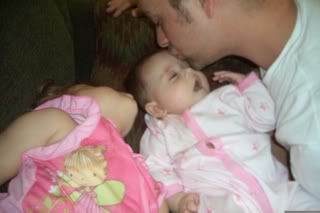 Ok... I feel a little bit better emotionally now. Maybe I can go get some sleep before the pain consumes my entire night then I'll be too tired to take care of the kids. If you've got health insurance, and you're healthy.... and your children are healthy, thank your lucky stars because let me tell you... finding insurance is hard. In fact, I recently got a packet from the ADA (American Diabetes Association.) and they recommend... MOVING! to a state that has better insurance coverage. So I'm just supposed to pluck my kids away from their life to move for insurance? Argh.... I better just go to bed before this post gets waaaaaaaaaaay too long.