In four days , my youngest daughter, the Bee, will be three. It's hard to believe. It doesn't feel like three years ago. As much as I complain about how hard things are right now, I love my all Bugs with all of my heart. I wouldn't change anything about them. So this post is my ode to my to my Bee who is going to be three. Well, I guess it's not really and ode. It's just an update on who my Bee is now...... These are a few of her favorite things.... "When the dog bites... when the bee stings... when I'm feeling saaad, I simply remember my favorite things... " Ok.... That tangent is done. Back to my Bee!
The Bee has a girly-girly personality. All she has to do is tilt her head, smile and watch the hearts melt. Her bright blue eyes make it hard to resist. She's funny, and charming. She prances, and loves to act like she's shy. She's the speaker of the family. She's been speaking complete full sentences since she was 18 months old, now at 3... we just can't get her to stop. If she doesn't feel like talkings, you won't get a word out of her. Not one single word. She'll point and just look around rather than talk. The mispronuncations are funny too. When we're laying on the couch and she wants to lay down next to us... she'll ask us to "Scoop out" for her. When she wants to watch Sleeping Beauty, it's "Freaking cutie" or "Sleeping Cutie." She has a light up "Gattagator" bath toy. The neosporin is "lotion" for boo boos.
She has whole other mess of things that are just adorable. She likes to dress up in anything fashionable. She's very small. Has a tiny waist. Last time she had her weight checked she was 25lbs. She can still wear most of her 12 month clothing. The pants are too short, but she likes to wear her 12 month dresses as shirts (Her idea, actually). If we would let her, she would take her purse and sunglasses everywhere we go. She has a major attitude. When she doesn't want to listen she seriously, just ignores you. Or hides. This child will be very good at the silent treatment (unlike her mom, and her older sister.)
Her favorite princess is Princess Ariel. Her favorite food peanut butter and jelly sandwiches. Her favorite snack is fig newtons, or fruit snacks. Her favorite music is anything she can dance too, or whatever I am obsessed with at the current moment. Currently, Dashboard Confessionals. Her favorite TV show is Maggie and the Ferocious Beast. Her favorite thing to do is color or nag me to go to her Tetta's house. She likes to color and is learning how to ride her bike. Her favorite toy right now is the Zippity that she got for Christmas. It's Disney based and while she is still learning to use it... she has a lot of fun trying. Her favorite book is Pajama Time by Sandra Boynton. She likes to sing, and will try to sing anything even if she doesn't know the words, she'll try to hum it. Her favorite game is finding the ghosts in her papa's bathroom with papa and her Bug. She loves to go to school and do the arts and crafts there.
She goes to sleep at night without a fuss as long as you give her a kiss on each cheek, her lips, her forehead and the top of her head. She gets upset if you forget even one of these kisses. The 2 books that must be read to her before bed are 1. Pajama Time. 2. Fairy numbers. When she goes potty, she wants to be all by her self unless there is no "Toiwet Paper." Then she doesn't mind me, Redmosqui or Bug hanging out in the bathroom.
So, that's almost all that I can think of except one last thing. My Bee gives the some of the worlds best hugs. She'll throw her arms around your neck and she's never rushed to let go. She can be the sweetest child in the world. Especially when we're out and she looks up with her big blue eyes and reaches for your hand (or Currently Daddy's hand), then walks quietly and perfectly.
Yup, Bee is three. Most people are always like "do they have to grow up?" Yes... yes they do. Newborns are special in their innocense, Babies are special in their curiousity, Toddlers are special because they are aware and alert to the world around them. That is so wonderful to see. I'm excited (believe it or not) to start the Terribly Trying Threes. Bring it on!
This wouldn't be a "tribute" without pictures right? I wanted to do a collage but I just don't have time. I didn't upload any new pictures. I logged into photobucket and pulled these pictures. I will post her birthday/3 year pictures when I get her to my friends house to get them done. I call this photo posting:
Bee--- Buzzing Through Time.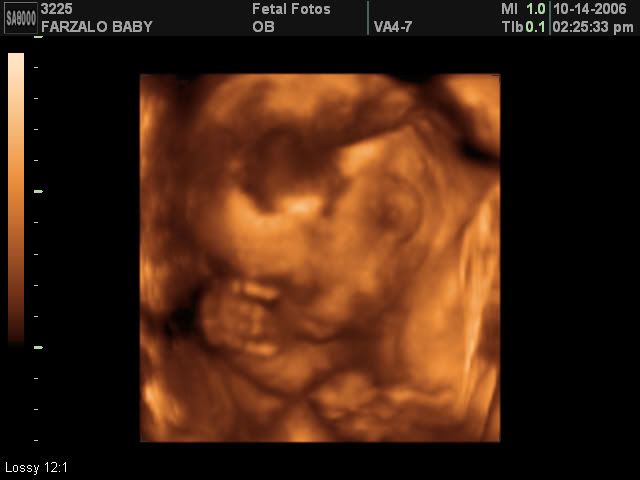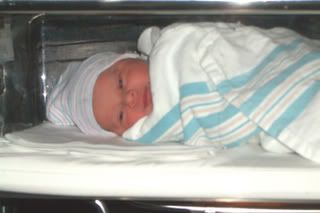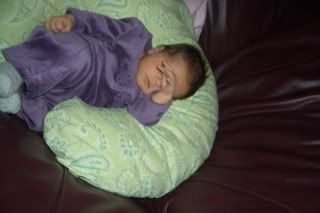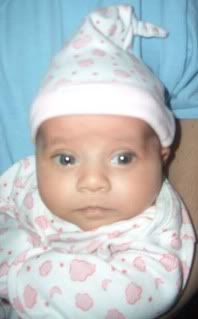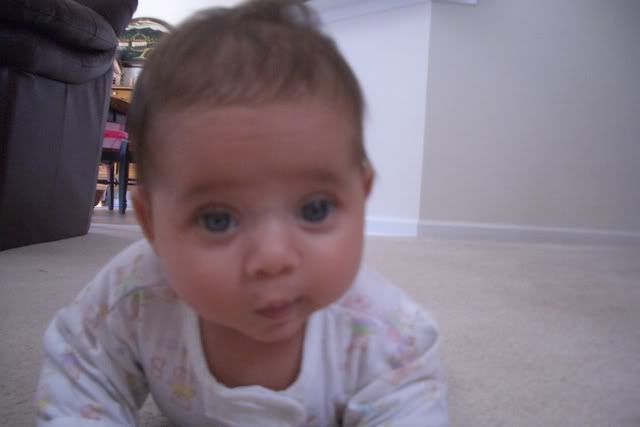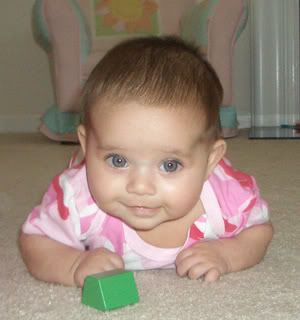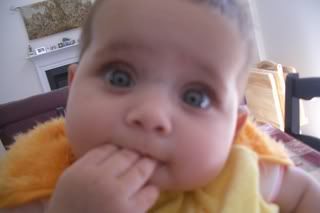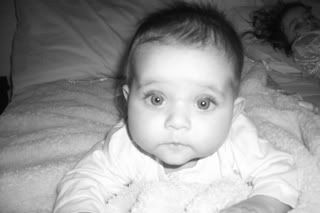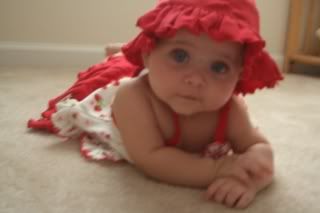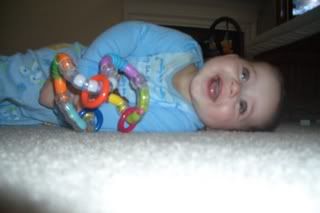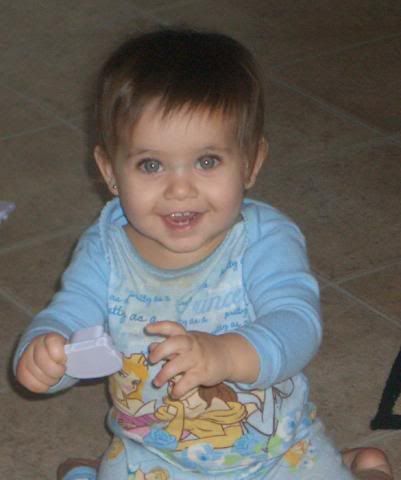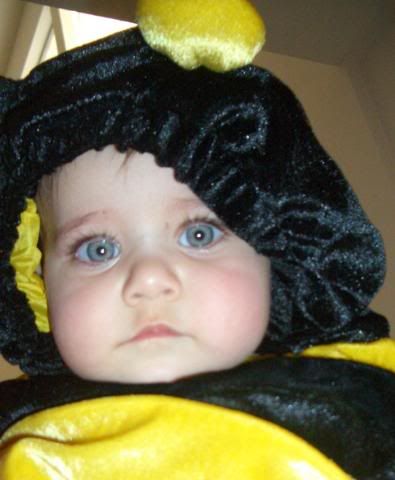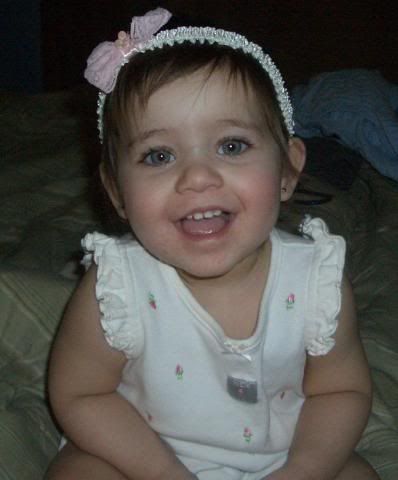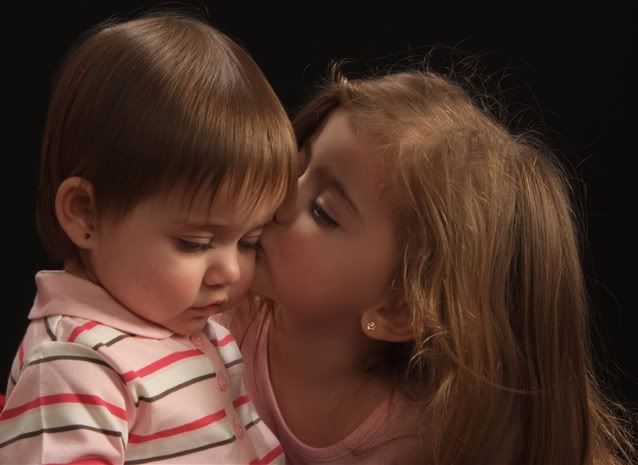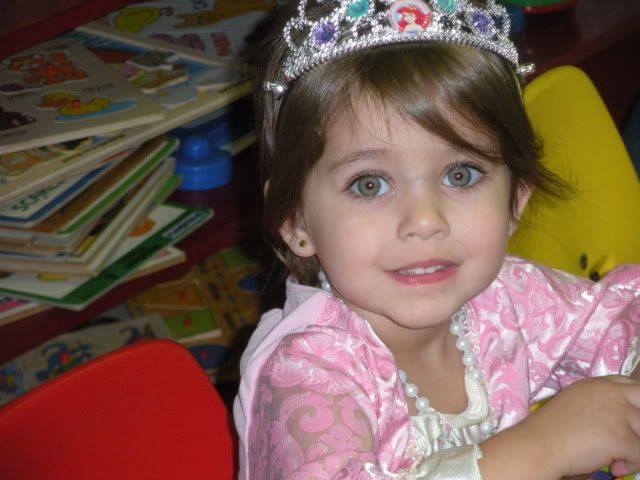 Before we had kids, we let a family member borrow our video camera, but we never got it back. I recently took the plunge and got another video camera. So who knows? We may have video on here soon. ;)
Happy Birthday to Bee! :)