I took a nap today, so it's kind of hard for me to go to sleep right now. But it was a good day. We got up this morning, got everyone cleaned up and dressed to go to my neighbor's house. She is a really good friend of mine and has kids that are close in age to my Bugs. She also does photography work on the side. As I've blogged before--- my bee's birthday is on Sunday so we needed pictures. We also needed a family picture. For Christmas, my brother and his wife (Haven't thought up Bug names for them yet) got us a gorgeous family picture frame. We hung it up on our wall, but it still has the picture that comes with it in the frame. You know... the fake family. Maybe they are real? Anything is possible. My mom's cousin also handmade and hand painted a picture frame for us.
So, anyway, we did get some pictures done today. It was actually a fun experience. We got the family picture, and we got a picture of Bee with each of us individually. It didn't take long either. We don't make my friend crop and edit the photo's so we still need to do that. But here are the two that will go in the frames we were given: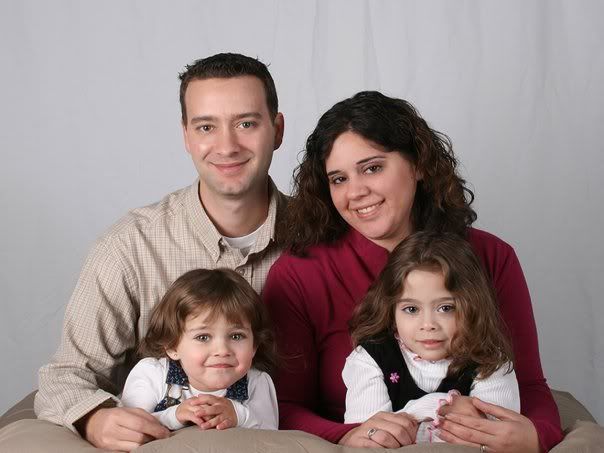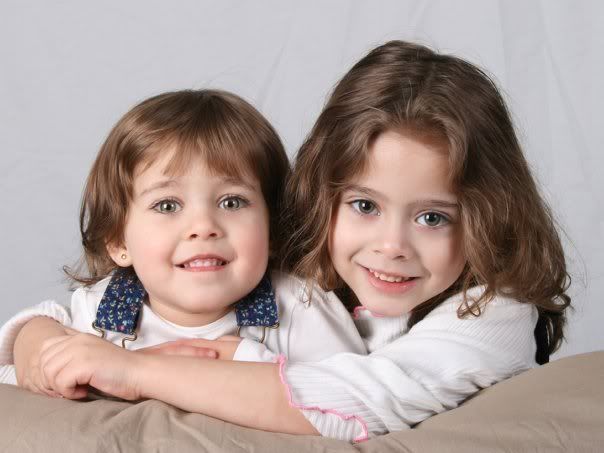 There were a lot of other good ones. Especially some of Bee by herself. We don't really get pictures done too often, but I think we'll be doing it again when Bugs birthday comes around. She did seem a little bit heartbroken that we didn't get pictures alone with her. We'll probably also be developing a bunch of copies to send to my family in Lebanon too.
After we came home, we made some fajitas, something I've been wanting to eat more of lately. And I took a nap. We've been having a lot of fun lately. We took the girls to get their hair cut. I had gone for a perm last week but the girls had been bugging me to do something with their hair. So, we took them. I've lived in this area since 2001. Not once had I gone to a stylist that I actually trusted. I went to that salon by chance, I had a coupon that came in the mail and thought I would give it a shot. The stylist I had was amazing. Which is why I made sure she was the one who cut my daughters' hair. And I even (without too much prodding) had her cut my husbands hair as well. He usually does it himself, but he even thought she was awesome. I love good experiences. And I love that I have someone trustworthy to go to when I need a change. :)
Bee's cake also was made today. I'm not sure how it's going to taste after being in the fridge until Sunday, but it was my only chance since I have to work tomorrow and her birthday party is Sunday. I also tried a new cake flavor, sandwiched in between the yellow almond cake.... there is yellow butterscotch cake. That's a first for me. Next time I want to try a Caramel Butterscotch combination. I think I may take some cake decorating classes over this coming summer. I love to bake. The cakes always come out tasting awesome (which is what people say is important) but I'd like them to look as good as the ones my mom made me when I was growing up. I'm not sure if the classes will fix the clumsy in me, but I would hope they would teach me a little more technique. I'll post pictures of the cake after her birthday. :)