Cupid came to visit.... in the form of, ME. It's 2:47 am and I just got home from work and set up a little surprise for my family in the morning.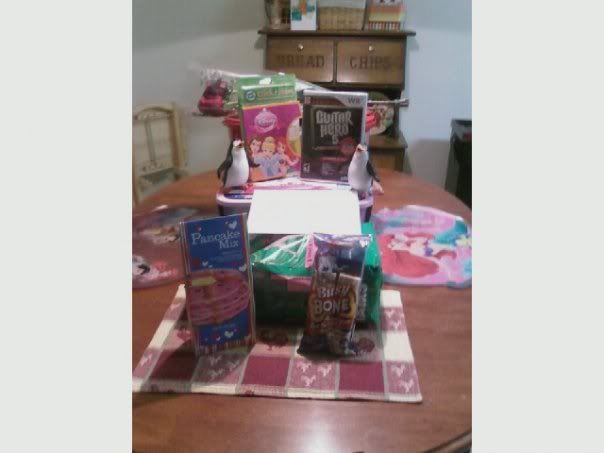 We can turn this into a Mastercard commercial ad:
I have 4 special Valentines.... Redmosqui, Bug, Bee and Pennybug (the dog):
2 plastic tubs with lids-- $3
2 sets of marshmallow frog princes for 2 princesses -- $2 (already in tubs)
1 Bee Flutterbug Valentine-- $3 (in tub)
1 Ladybug Flutterbug Valentine --$3 (in tub)
1 Disney Princess Click Start Computer Game-- $15
1 Disney Princess Game Bin $10
3 Roses (one for each human valentine) -- $5
Pink Chocolate chip pancake mix (that will be made into heart shapes in the morning) -- $3
2 Happy Meal Madagascar penguins --- Free! (The guy was nice enough to even give my meal free)
1 Bag of the right dog food (I grabbed the wrong one)-- $10
1 package of busy bones-- $2.50
1 perfect Fred and Wilma Flintstone Card for Redmosqui -- $4
1 Guitar Hero 5 game--- heh, need I say it?
A Valentines Day filled with all different kinds of games? ...... Priceless!
Hope everyone has a fun Valentines Day! We have a trip to the bookstore planned which is our monthly routine and then to get some sub sandwiches from somewhere. Haven't decided yet. We may also watch The Time Travelers wife tonight. The book was amazing for those who have not read it yet. Hopefully the movie is too!
Lot's of love,
Queen Cupid