A coworker asked me to make her cupcakes for her baby shower. Here is what I did for her. These weren't exactly the finished product. There were several touch ups that were made but it took forever to finish up. So, I don't have the picture of what it looked like in the end. One of my best friends came over, kept me company, and helped out by doing piping and melting the chocolate so we could stick the decorative pacifiers in there.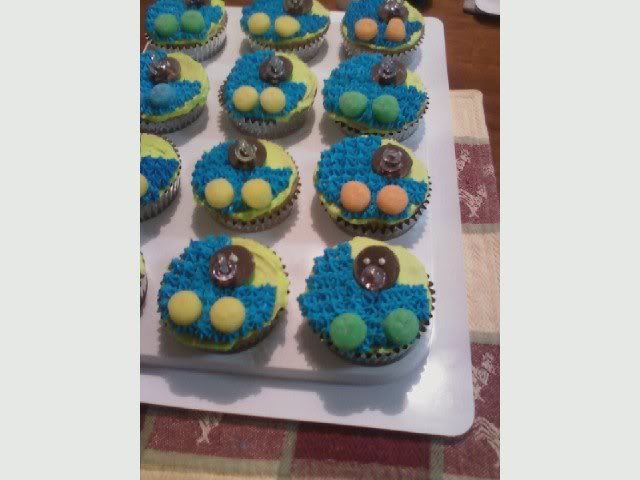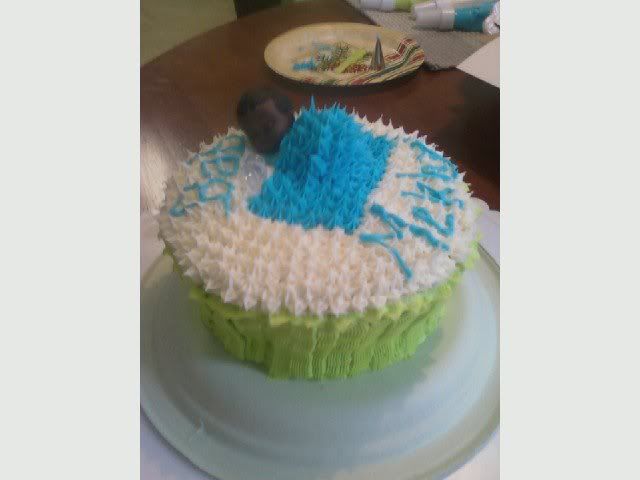 She said she loved them. I dropped them off at her house the same day. Her baby shower was today. Cake is hard work. Maybe one day when I am better, I can open up a bakery and have my friend partner with me. It's a dream, but I've noticed lately that if there was ever something that I've wanted, and wanted it bad enough, I get it. So, I have started thinking about that recently, not sure if I really want it. It would be wonderful if I could decorate cake and pastries all day instead of what I am doing now, but I also love my job and talking to people, helping them out when I can. I am always so protective over those that I am close to, if they need something they know they can just call or talk to me and I will do what I can for them. This job gives me a chance to expand that to others. The people I talk to notice that as well. It's great to hear that even if I don't get them in with the company, that I still helped them by talking to them. It feels good.
Health update:
In other news, today was another horrible day. I made it 11 days without having an "attack" of whatever is going on. My radiation scan test was on Thursday, I am hoping by Monday, the radiologist would have looked into it and given me the results so we can move on to more testing, or hopefully find out what is going on. This is seriously taking away from my life right now. I had to call out of work again today, and I hate doing that. I enjoy being at work, and being with my coworkers. I did get another new symptom recently, which has to do with my last post. I am bleeding more easily and a lot longer than usual. Even basic blood sugar checks have become tedious due to excessive bleeding. Argh! Need to figure it out soon because right now, we're struggling. I am lucky that I have great friends who check on me and help us out when we need it.
Kids:
12 days until my bug is 5 years old. I decided on a castle cake for her with some plastic turrets to display the Cinderella figures that I feel like I harassed the Disney store to get last year. Now she's wanting a Cinderella hair brush. I know I'll eventually find it but probably not in time for her birthday. I guess Tinkerbell (what her brush is now) is getting old for her. Bee is trying to grow up too quickly too. She hopped on Bugs tricycle and actually fit on it. So maybe if there is more beautiful North Carolina weather, we can get her on it and let her start practicing.
My niece and my mom came over as well when I had my test on Thursday. All three girls had fun and there were lots of tears when it came time for them to leave. A few highlights of the visits were them wearing their princess nighties. We also did Family Fun Night at McDonald's. Hamburger Happy Meals were 99 cents, and it was a Star Wars night there as well. All three had a blast. My mom wanted to hang out at the house to rest, but instead of resting---- She cleaned up my house. I made sure to tell my mom how much I love her, and how awesome she really is before she left. 2 days wasn't long enough. The house across the street from me is going for $99,000... which is way under what it is worth. I would love to buy it and keep it as a place for my mom to stay when she's here, but she won't be here often enough to warrant it, and she doesn't want to leave the house she's been in for 16 years either. *Sigh* Here are the girls in their princess nighties;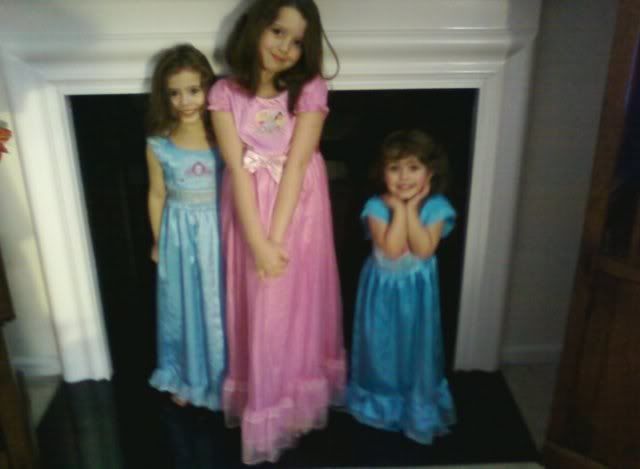 We also had a trip to the fire department last week. Bug made sure to tell the Fireman that if he ever has to come to our house, he has to save our Chi-Wow-Wow, Penny. He told her not to worry. He'd save her chi-wow-wow. He was an excellent speaker, especially to kids. He was fun, funny and made them and adults laugh. Here are some pictures: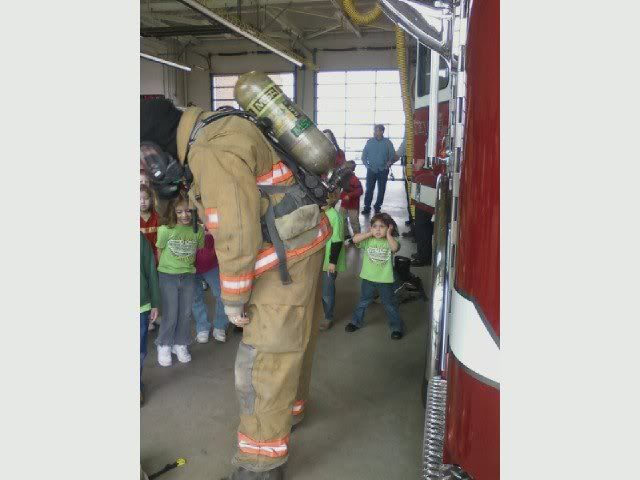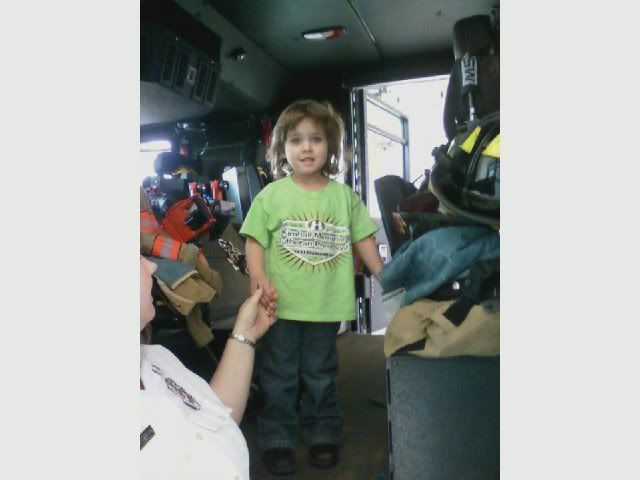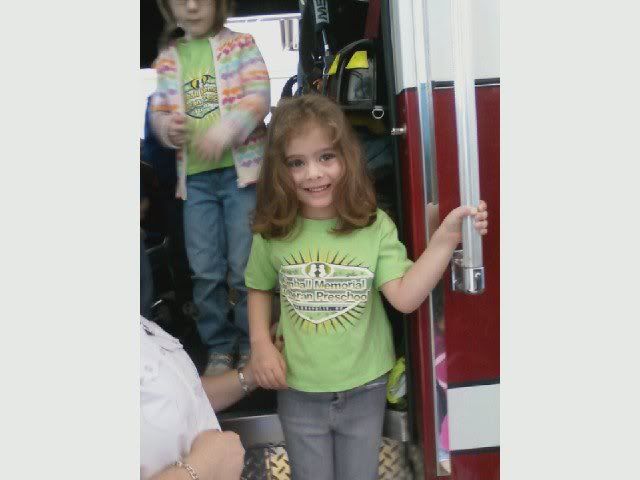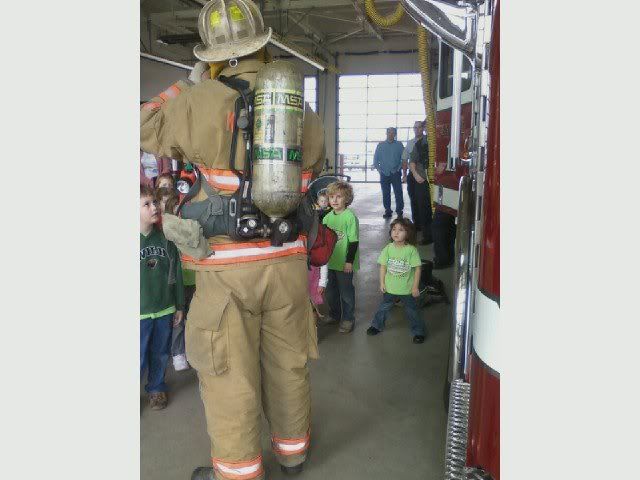 I am glad we got to go on the field trip with the class. They also learned about police officers, dentists, ambulance drivers, postal service workers and several others. Definitely things that staying at home wouldn't teach them. It also gets them thinking about what they want to do when they're older. Bug has decided on Dentist but only for people with good teeth, she says. They also taught Bug about 911, how to call and when. They took tours of an Ambulance and Firetrucks. Hopefully this week my friend and I can get birthday pictures, and Easter pictures taken care of for the girls. They're getting so big, more work, but more fun as well. Hard to believe Bug will be in her Preschool cap and gown for graduation in May.
They're also learning about Easter! We decided to do an egg hunt in our backyard this year, and I am going to make a ham and a few others things for dinner. Sunday is pretty much my only weekend day off. So we decided since I don't have to work Easter, we'd just stay home and enjoy the day all together as a family, play, watch movies and just... stay in our jammies all day! Except the egg hunt of course. Hopefully we'll get to do it outdoors, weather permitting. I have a really awesome idea that I am going to implement for the egg hunt that I think the girls will love. I hope everyone is having a great week and weekend. Look forward to catching up on reading blogs and commenting tomorrow in between planting pansies, and hopefully using up most of the 50 bags of mulch we purchased.