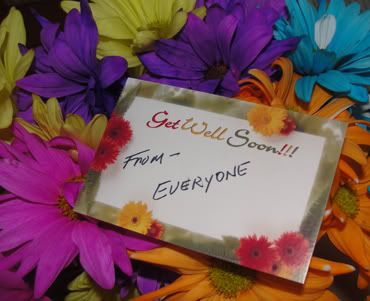 I do miss having time to write! Right now, I live on what I call the Alarm system. My days are packed full of alarms. My first clock alarm goes off about 7:50am. Then my husband calls me about 20 minutes later. He's so awesome. He gets both girls up, gets bug ready for school. Then gets bug and bee breakfast. He then puts Bee in Bugs room (she has my old college TV with built in VCR) and lets her watch a VHS tape. He tells her she can come in my room after the phone rings. And believe it or not the first ring is barely over before she charges in! After that, I get her ready and get her to her school, which is from 9am-1pm, Monday-Friday. She's at a new school this year and she loves it! Usually after I drop her off, I run errands, pay bills, make phone calls and occasionally go back to sleep. At the school she was at before, I barely had time to do anything, even on a different schedule at work. Those are my 1st two alarms. Next two come when it's pick up time for Bee, in case I fall asleep. And then about an hour and a half later, it's time to pick up bug, so my last alarm goes off for that. An hour and a half later, Red gets home from work, and we have about 5 minutes to talk and update on who did what, who has homework, who needs what, etc. We know Bee needs a lunch packed everyday, however Bug does not like school lunch every day. In fact, it made her stomach hurt so badly to eat it every day so we have been looking at the menu together and letting her decide if she wants that food, or wants us to pack her lunch. Then it's TAG Red's it. I leave my house around 4:20pm so I can make it to work at 5pm, and leave work anywhere between 1:30am-2:30am. Drive then drive the 20 miles home. That is our life right now. It's hard, but worth it to be able to give the girls what they need.
Bug was in preschool, and she loves going to school. She has so much to say about her friends and teachers. She also has homework EVERY night. Not something I approve of seeing as though with mine and Red's schedule, she doesn't have time to be too much of a kid anymore. Her homework is all due on Fridays so we've managed to be able to skip some nights of doing work to just let her be herself. Same with Bee. I didn't know how well the Bee would adjust going from 2 days a week, 2 hours a day to 5 days a week, 4 hours a day but she made the transition so smoothly that I didn't even realize there was a transition. Her new school, while more expensive, has a lot of perks. Pick up and drop off are done in front of the school which means this tired mommy does not have to get out of the car, or the comfort of heated seats in the winter! I don't have to wait outside for the school to open in the weather either. Drop off and pick up is 5 minutes before, and up to 10 minutes later too. It's worked out very well.
Here are a few pictures of the girls getting ready for school. The first 3 are bee's school pictures. I decided to buy the copyright.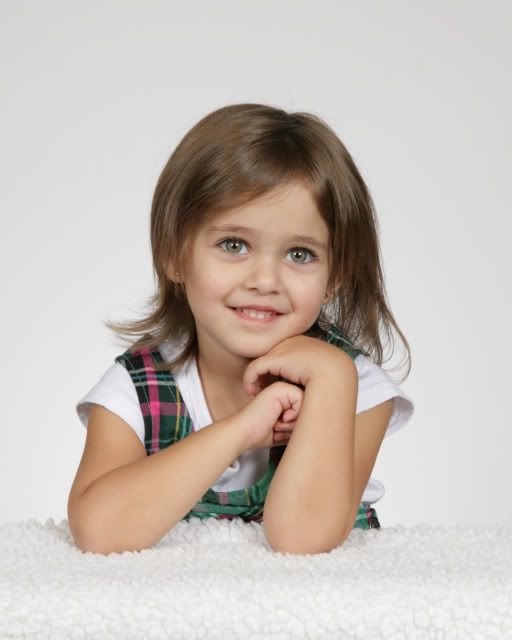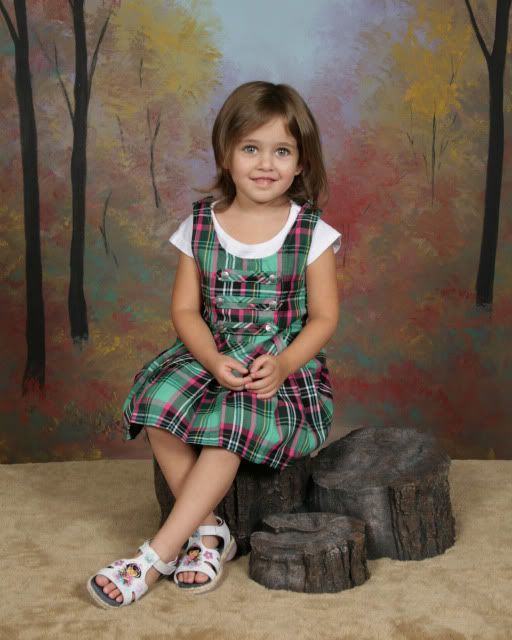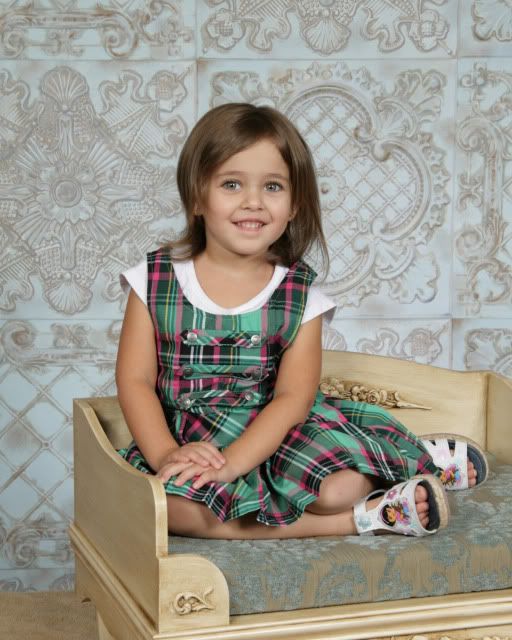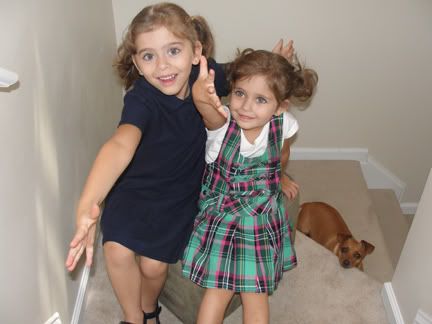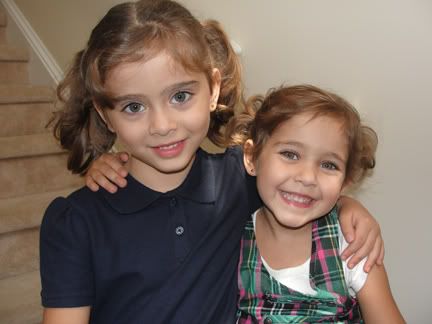 This is a picture of my bugs in January 2010... Look at the difference just 10 months can bring: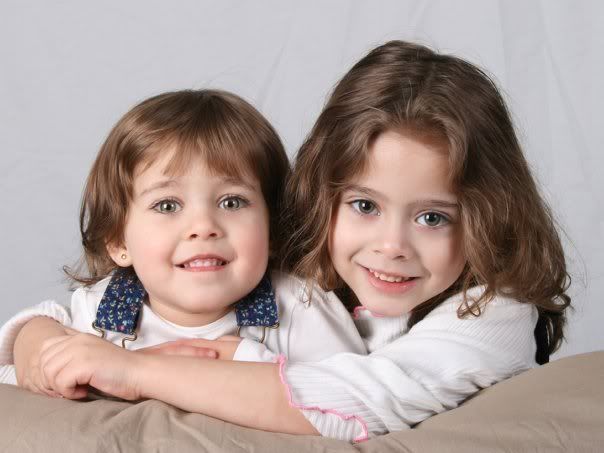 Where does my health stand?
Health matters for me are up in the air. I have been diagnosed with Chronic Reoccurring Pancreatitis. We removed my gall bladder in August, you'd be surprised but there is a connection between gall bladder and pancreas. My gall bladder was very diseased, something they couldn't see until after the surgery. There were precancerous cells in there which makes me 50% more susceptible to pancreatic cancer, which the pancreatitis does that all by itself. So I have to get regular screens and continue to see a G.I. doctor. I did successfully manage to switch doctors and will be seeing my new doctor this month. I just can't go back to the one I was seeing. Not after telling him in March that I believed it was my gall bladder or pancreatitis and him ignoring the fact that maybe I know my body a little bit better than he does. So he was doing all kinds of other tests. One which he made me go to a couple of different labs only to find out the test he had ordered could only be done in Italy. It was very frustrating because I had to go to another hospital, in another city, half dead one night AFTER work. They ended up admitting me, and keeping me drugged for a week. My digestive and endocrine systems had to be shut down, and restarted. So I missed a week of summer with my family. Red did bring Bug and Bee to the hospital, but the look in their eyes of sadness when they saw me is one I never want to see again. They understood, but then again they didn't. I had a central line to my chest which is hard to hide and I was bruised and in a lot of pain. They are always worried about me now, even the smallest upset stomach has them asking me if I have to go back. Even though I missed a week, I am glad it was in the summer. Red being a teacher allowed for him to not have to find child care for work purposes. In August, we did away with the gall bladder and now I am in and out of more mild attacks. The attacks before were awful and I am glad they've calmed down. I am learning new ways to live with this. I've mostly cut out Red meat out of my diet, which is hard. Red is my favorite! Added more fish, chicken and turkey which I am not minding so much. The next step is to figure out how to get rid the abdominal swelling. I have been told that may never happen but we will try nonetheless.
2011 is right around the corner and I am eager. I have the mind set that next year has GOT to be a better year for me! At least... I am going to keep telling myself that. I hope all is well with all of my blog friends, I will be stopping by your blogs soon to catch up! I am finally learning how to navigate the iMac a little better using the right commands. I had to ask Red how to copy and paste, and also how to backspace (there actually is no backspace... just delete). Crazy devices!
TTFN!