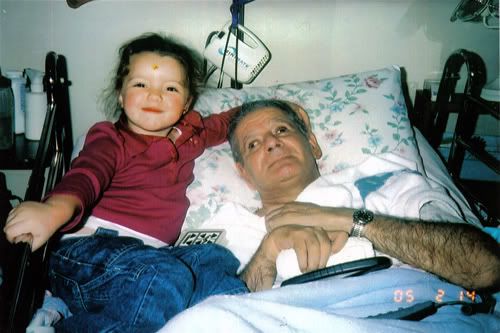 My dad and my niece about two months before he died...
This post is going to be up for the next week. This week is MS Awareness week. And it's made me remember that I've signed up to do the MS Walk. I haven't been able to fundraise with the addition of a newborn to our family. I know I won't make my $1,000 goal, but I can at least make as much of an effort as possible, right? Thank you to the two people who have donated thus far, it really means a lot to me.
Anyway, MS is devastating to any and everyone with it. My dad will have been gone two years in April and it's still hard for me to even remember his life because he was in pain for all the years that we were alive together. I miss him and I remember him losing all his abilities, his sight, being able to eat, use the bathroom on his own... shower on his own. I remember him screaming at night. I remember him asking me to try to move his leg and then screaming from the pain of it but he still needed it to be moved. I remember him having to watch TV through a mirror because he needed to be turned the other way. I remember him being drugged to the point where he had to be woken up to get his daily blended meals. I remember him being lonely but having no new stories to tell so he'd tell the same ones over and over again to anyone who would listen.
MS hurts... I recently found out a good family friend may have it. So I'm walking again, hoping somehow, some way other children don't have to see their parents suffer.
If you'd like to donate/help here's the link:
MS Walk
Don't feel obligated.... comments are just as nice. Thanks for looking!