Alas, I have to work 5pm-1:3am on Mother's Day. But at least I get the whole day today with my family and most of tomorrow. :) They let me sleep in today and I took full advantage of it and stayed in bed until 1:30 in the afternoon! Going to sleep at 3am taking a toll during the week. Then we went to Target to acquire flip flops for all 4 of us for our beach trip. Then we went to a wonderful hibachi dinner. We LOVE watching them cook the food and it's wonderful to watch the girls faces when they're doing tricks. After that we came home and Redmosqui gave me some time alone at the house. He took the bugs and went to the store. They came back with a dozen roses. I love flowers. I used to work for a greenhouse as a vendor and loved working with the flowers so they know exactly what to get me.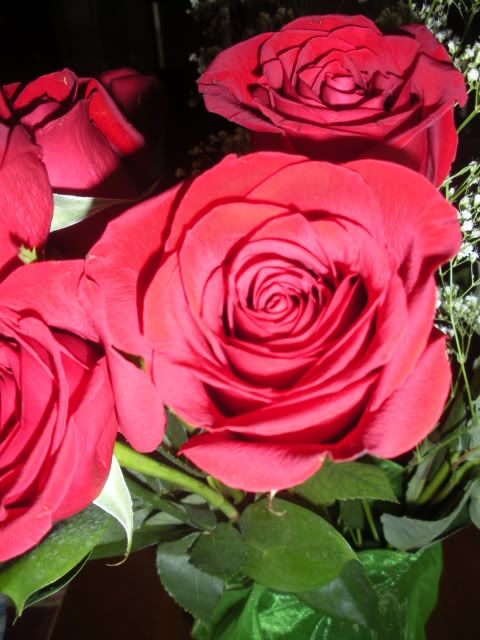 We put them in a vase on the kitchen table to share the beauty of them. Below is the craft project Bee did at school for Mother's Day. It's really cute and from what I was told the kids had a lot of fun doing it for their moms. Bee does not talk in school at all but when I picked her up she ran up to me with her project very proud of what she did and said "This is for you mama," in front of her teachers. We were amazed! I was like "Did she speak or am I just so tired that I am imagining it." But no, she did speak!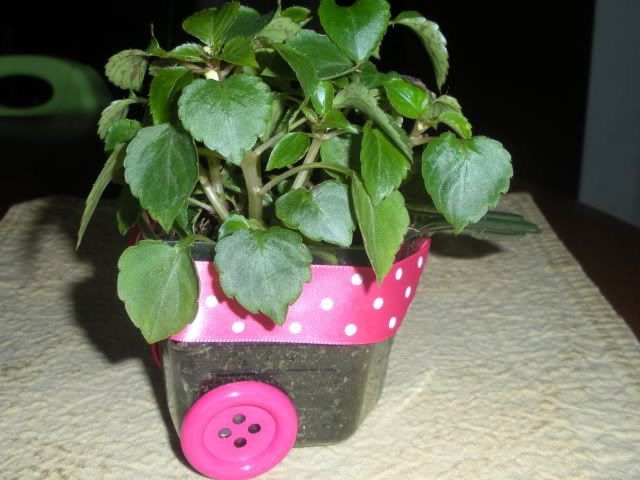 This one below is my favorite of them all. It's funny, it's cute and it makes me proud to be my Bug's mom! It shows me that bug listens to me. Like when I tell her I weigh too much right now and I am trying to watch what I eat. She's even taken to eating what I eat now. She's a sweet heart--- MY sweet heart. This is the questionnaire they did in her preschool class.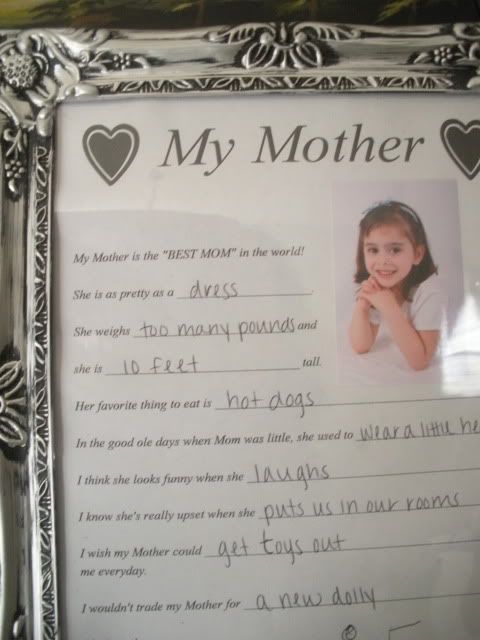 I laughed and cried at the same time when I read this. She thinks I am prettier than a "dress." Dresses are her favorite thing to wear. She knows I weigh "too many pounds. I am not sure why I'm 10ft tall but hey, that's flattering! Even in heels I don't hit 5'5. She knows I like hotdogs. She knows I used to wear a heart shaped gold ring when I was a child (she wants that ring badly). She knows I have to be really mad at them to put them in their rooms and she knows that I don't get to relax and play toys with them everyday. That part broke my heart.
Some days I wish I didn't have to work, some days I wish I didn't feel like I had to do the responsible thing for us. I know we all need health insurance. I know the extra income allows us to do more and have more. It allows us a higher budget that's for sure. And it allows each of us one on one time with the children and family time as well. Sure I'm tired, sure the girls have no idea how hard this is on my body, especially with so many things against me (old foot injury, diabetes) but for Mother's Day they helped me realize that they see m hard work. They may not understand it but they know it's there. They know they have a place to call home, surrounded by familiarity and love. They know they have 2 parents who would do anything for them and just knowing that---- make all that I do as their mother and his wife so worth every bit of exhaustion from having 20 hour days.
There is so much more to Motherhood, even parenthood than meets the eye. It brings on appreciation for my mother and parents. And it brings on the realization of all the things it took to get me to where I am now. Mother's and Father's day is really every day. It's in every smile that your children flash. It's in every hug and kiss that we are given. It's in every "I love you," "I don't want you to go to work," "I don't want to go to bed," etc. This is what I have learned from raising my children. I may not have realized it when they were infants... In the showing off what I brought into the world stage which turned out to be the easiest stage, I learned in the trying stages and wouldn't trade in this knowledge for all the treasures in the world. While I know from here on out we're going to have several more trials, I can go into with new knowledge of just how much my children do realize what our daily struggles have been. All thanks to a little questionnaire.
I hope everyone's Mother's Day is equally as gratifying. Physical gifts or not.... the gifts are there if we're willing to see through all of the hard things we endure on a daily basis to the prize at the end of the tunnel. We've got these little humans to train and it may not be the easiest thing in the world, but you know what? It's the most rewarding out of all the things we'll do here.